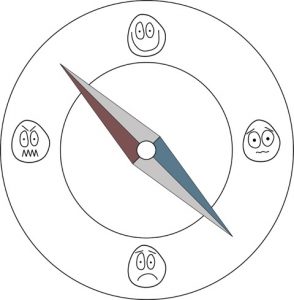 The Emotion Compass is a free web page for those who want to learn about emotions, explore their emotions, and practice managing emotions in a good way. The site contains information, tools to explore your own emotional style and exercises where you can work on understanding or changing difficult emotions. All the content on the site is free and can be a nice place to go, whether you just want to read and learn, explore emotions, consider starting in or currently are going to therapy.
The content of the site is rooted in a psychological therapy form called Emotion-Focused Therapy (EFT). In EFT, see mental pain as a sign of basic emotional needs not being met. This may be a need for security, belonging, recognition, affirmation, comfort, care or setting boundaries. EFT seeks out to help people understand their own emotions, allow them to be there, be able to listen to ones needs, in order to better orient oneself in life. If you would like to read more about emotion-focused therapy please click here.
As the exercises on this page are about emotions, they will also be able to arouse emotions. When you working with your emotoins it is necessary to also feel your emotions. However, it can be painful and difficult to do this on your own. If you are currently in crisis or feel unsure if you can do the exercises on this site we will advise you to first talk to someone else, whether it is a good friend or health care professional. This is especially so if you are struggling with large unprocessed trauma, or know that you can do things that are not good for you when you are in pain. All the exercises on this page are done at your own risk. The site is not intended to be a substitute for therapy.
The site is developed by Aksel Inge Sinding or Jan Reidar Stiegler at Institute for Psychological Counseling in Norway. Aksel is a clinical psychologist and specialist in EFT. He has a high interest in writing about psychology for the public, writes regularly in the media and holds courses and lectures about emotions and mental health. Jan Reidar is a psychologist (PhD), a specialist in EFT and is head of profession for The Norwegian Institute for Emotion-Focused Therapy. Together with Leslie Greenberg (PhD), founder of EFT, they have written the book Wise on emotions — what your feelings are trying to tell you, published by Gyldendal.
All illustrations on the website are made by Ingrid Marie Bøhler Høvik. The interactive parts of the page are developed using technology from Explorable.